-PEARL JAM-
3 August 2000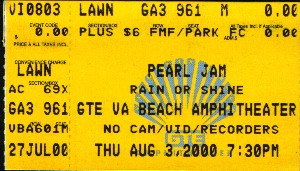 I got that picture from Synergy. I also stole these:
Jeff and Mike.... Eddie by the disco ball.... Jeff and Eddie.... Jeff in the blue light.... Eddie and Stone
Another shot of Eddie and Stone.... Jeff and Mike again
and finally...a scan of the setlist



Setlist: Long Road, Corduroy, Grievance, Gods' Dice, Animal, Nothing As It Seems, Given To Fly, Even Flow, MFC, Wishlist, Off He Goes, Daughter/It's OK, Better Man, Thin Air, Insignificance, Rearviewmirror, Porch.
1st encore: Do The Evolution, Light Years, Black, Small Town, Sleight of Hand, Go.
2nd encore: Soon Forget, Yellow Ledbetter.



I guess that first, to highlight how special this concert was, I should say that it kicked off the North American tour. I don't know why they picked Hampton Roads. But they did. And I think it's pretty cool. Also, in a more peculiar (and tragic) sense of special, this was the first concert Pearl Jam played after the Roskilde incident.

I ended up on the lawn again. I always forget to renew my Ten Club membership, and end up having to buy through Ticketbastard. I just suck. But anyway, I bought my seats a lot later than I did when they were here in '98, cos they always sell out of real seats like 10 minutes into the start...lotteries and all. Later I won a couple of tickets on the radio. I knew I didn't need them, but there was a drawing to get front row seats. I didn't get them, but it was ok. Now to start the adventure...

I had a rough day on August 3rd. I had to get up at 6:30 to go to college orientation until noon, functioning the entire time on 4 1/2 hours of sleep. I was tired when I got home, so I took a nap. I got up at 4:30, took a shower, and picked up Ken. Our plan was to find someone and try to trade our 4 lawn seats and possibly some money for 2 good seats. The concert started at 7:30, we left at about 5. The traffic was awful, and I don't know if the rain had anything to do with it. We got there at about 6:30. I picked up my free tickets, and we finally decided to go in at about 7. The searches were thorough. The guy felt up Ken. We went to go get concert shirts next. It was a joke how badly organized the lines were. It was really a very arbitrary set of lines that worked more like a crowd of people who move up at their own will. The shirt transaction happened shortly after Sonic Youth got on.

The lawn was in very shitty clay condition. After climbing up there, I realized I was thirsty. We went back down and bought drinks. Ken said he didn't want to go up on the lawn cos it was dirty and he didn't want it to rain in his drink. So we found a pavilion and sat under it for quite a long time. No one else opted to come in out of the rain, so we were just chilling in there with a couple of EMT's who were ignoring us. We kept talking about how cool it would be if Eddie climbed over the fence and came over to have a drink with us. We also discussed sneaking over the wall and finding a few empty seats. If we got kicked out, I reasoned, I had two extra tickets. We thought it would be even funnier if we went back in wearing the shirts we had bought inside. But in the end we decided not to risk it. By the time we finished and got back up to the hill, Sonic Youth was done. Neither of us really felt like we missed much. It didn't sound that good from where we were.

The setup for Pearl Jam took forever. And I want to be a roadie. They get cheered more than Sonic Youth just for coming out and hitting a drum a couple of times, or for strumming a guitar.

PJ opened with Long Road. Considering the fact that a lot of people look on No Code as an inferior CD, they were getting crowd support. I guess cos they opened with it (dar). Corduroy came next, at which point Ken remarked, "I don't care what anyone says, there is nothing old about this band." They continued to prove this throughout the night. There were no screwups the entire night, except Eddie's lyrics. Between Animal and Nothing as it seems, Eddie asked them to light up the back, at which he told us to be careful, cos the ground was wet.

In MFC, Eddie substituted the line "there's a lot to be said for nowhere" as "there's a lot to be said for...HERE." Wishlist produced the same response as it had at the previous concert: when Eddie sang "50 million hands upraised" everyone put their hands up, and he smiled really big. Also the same as at the last concert, they brought out the silver disco ball again. He continued Wishlist with the printed lyrics in Yield. It was cool...they killed all the lights, except for a single spotlight on Eddie, as he sang "I wish, I wish, I wish, I wish..." It was the first time I felt like I might cry that night, at the pure quality of his voice...but it wouldn't be the last...

In fact, the next time was in the very next song, Off He Goes. Eddie mentioned that it was "Anthony's favorite song." Right away I knew that he was referring to one of the people who lost his life in Roskilde, and I felt like I might cry again. And, in the very next song it happened again. Daughter went off well. I was expecting WMA to get tagged on the end, but began to wonder if anything would when they continued to play the instrumental for a decently long time. Finally Eddie started to talk. "The last time...the last time we had to ask the crowd to do something was under very different circumstances than this..." He went on to say how nervous he was, and asked if we could do something for him...sing. "Sing loud cos it's outside. Sing loud cos you're still alive." I felt the catch again. He told us he would say, "It's OK" and we would sing, "It's OK" back. The crowd response was excellent. Eddie went on to finish the song (I don't know whose song it is...). The participation carried over into Better Man.

Eddie introduced Thin Air as "Stone's song." Mike sat down and let Stone play by himself. During Insignificance, Eddie remarked that he was "fucking up" tonight. Before the second chorus of "Bombs dropping down..." they killed every light in the house and the band quit playing for like 3 or 4 seconds, then burst right back into it. Next was Rearviewmirror, the song Ken had been telling me he wanted to hear in between every other song. He was pretty happy when they played it. The strobe lights were great in it, they had them going exactly with the rhythm of the song. They played Porch then left the stage.

After a few minutes they came back out on the stage and did Do the Evolution with the usual line change, "I'm the first man to wet my pants." Thin Air added to the surprising amount of Binaural material, I was happy to hear it. It's one of my favorites on the CD. But I was even happier at the next song, Black, which has been my favorite for a very long time. Next, during Elderly Woman, Eddie changed the lyrics to "My god it's been 2 years..." which I found cool. Ken and I were having a debate about what they should close with. I said Yellow Ledbetter, he said Immortality. We also agreed that Alive would be good...but strangely neither that nor Jeremy was played. They closed again with Go, breaking out the strobelights again.

Eddie came back on the stage with a towel after 5 or 10 minutes of us begging them to return. He came on by himself, walked around, and picked up a shirt someone had thrown onto the stage. Finally he approached the mic and said, "this is something we didn't have before." He pulled the towel off, revealing his ukulele. Ken and I were ecstatic. We both wanted very much to hear Soon Forget. He asked for silence, shushing the audience several times. He jumped from the first verse into the last verse, realized what he had done and mumbled, "oh shit." Everyone cheered him anyway, and he finished the song. Lastly, they played Yellow Ledbetter. Mike owned the stage. Eddie, instead of saying "I don't want to stay" said "I just want to stay." But they didn't stay...that was their last song.